Whole-body cryotherapy (wbc)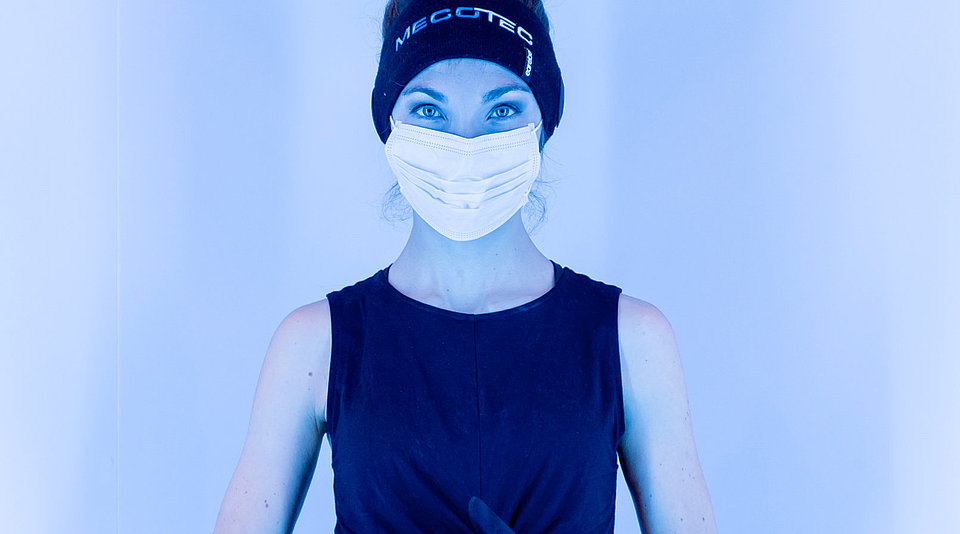 Cryo technology for the modern ice age
Cold helps to heal; an insight centuries-old and yet innovative as never before. Whole-body cryotherapy (wbc) means health, regeneration and vitality. Why? Our body shows reaction processes in strong cold which, among other things, inhibit inflammation and allow the body to regenerate more quickly. This cold of up to -110° Celsius can be generated technically - with MECOTEC, the pioneer for electrically operated cryo chambers.
This is how whole-body cryotherapy helps in medicine, sports and wellness.
Whether in a medical practice, in sports or in a wellness studio: MECOTEC's cold chambers are an assistant, a sparring partner and a beauty hack. Our customers have long since stopped asking "Does this really work?" But rather only ask "When can you deliver our chamber?"
MECOTEC is one of the world market leaders in electrical cryotherapy.
Cold can support you in the treatment of symptoms. This is because the human body exhibits physiological processes at temperatures below -80 °C. This relieves pain and inhibits inflammation. It stimulates the heart, circulation and immune system. And are stimulated in a cold chamber from MECOTEC. Ideal for doctors, physiotherapists and orthopaedists. Ideal with MECOTEC.
In recreational and professional sport, training goals count. Always.The way to achieve them is always through optimal regeneration. Cryo chambers from MECOTEC support you in this - after training, competition or a sports injury. The effect of cold reduces pain in muscles and joints. Muscles relax, injuries can heal better and athletes recover more effectively. Cold therefore means performance optimisation - with MECOTEC
Beauty has become of unmissable value in our society. Accordingly, people's need for offers around beauty and vitality is increasing. The market for fitness, beauty and anti-aging is therefore growing at an above-average rate, opening the door for whole-body cryotherapy. It improves blood circulation, increases collagen production in the skin and stimulates the metabolism of the entire body. It alleviates skin complaints and reduces water loss from the skin. And it achieves this with MECOTEC.
Procedure of a whole-body cryotherapy
To perform this type of cryotherapy, the user should be as lightly clothed as possible in order to achieve the optimal effect. Only the acra and respiratory tract are protected by shoes, mittens and a breathing mask, and the ears by a headband. In addition, it is important that the skin is dry and that he has taken off metal parts such as jewellery, watches, etc.
How does whole-body cryotherapy work?
You have a specific treatment goal - and MECOTEC helps you achieve it. The temperature in our cryo chambers is as low as -110 degrees Celsius. As the skin temperature is rapidly lowered, your body reacts with physiological processes that simultaneously protect and improve its condition.
Body reactions
In the chamber:
Release of cryoprotective hormones
Constriction of the blood vessels
Constriction of the bronchi
Increase in heart rate
The results afterwards:
Relaxation of the lungs
Relief from pain
Inhibition of inflammation
Relaxation of the muscles
Stimulation of metabolism
Improved regeneration
Formation of collagen
Impact factors
Pain relief/Abolition of pain
Inhibition of inflammation
Effects on the skeletal musculature (regulation of tone, temporary increases in circulation,improvement in metabolism and modification of neuronal activation)
Improvement in joint functioning
Regulation of central activation levels, psychophysical stimulation of performance andpromotion of overall well‐being
Economization in the cardiovascular system and in energy balance
Optimization of thermoregulation
Indications:
Inflammatory rheumatoid diseases of the spinal joints
Degenerative joint and spinal conditions
Rheumatoid diseases of the soft tissues
Chronic pain syndromes
Disturbed muscle tone regulation in infantile cerebral palsy, multiple sclerosis and inmuscular tension
Psoriasis with or without joint involvement
Neurodermatitis
Contusions, distortions, conditions following surgery on the joints and the spine, injuries to
support and mobility structures
Performance optimization for athletes and in medical rehabilitation
Positive treatment results have been observed in:
Non‐organic and pain‐related sleep disturbances
Primary hypotensive cardiovascular dysregulation
Sympathetic and parasympathetic reactive states
General psychophysical reduction in performance
Bronchial asthma
Disturbances of movement coordination (with disturbed proprioception)
Chronic inflammatory skin disorders
Restless legs syndrome and episodic leg movements during sleep
All information from Konsensus Erklärung zur Ganzkörperkältetherapie (GKKT), Bad Vöslau, 2006 (german).
Contraindications
Cold chamber cryotherapy is generally well tolerated. If you are unsure, you should consult your doctor before your first visit. However, there are some diseases for which the treatment should not be carried out or only with great caution. These include the following diseases in particular:
Absolute contraindications:
Untreated hypertension
Myocardial infarction occurring less than 6 months prior to treatment
Decompensated disorders of the cardiovascular and respiratory systems
Unstable angina pectoris
Cardiac pacemaker
Obstructive peripheral arterial diseases (Fontaine stages III and IV)
Past history of venous thrombosis
Acute febrile respiratory illnesses
Acute disorders of the kidneys and urinary system
Severe anemia
Manifestations of cold allergy
Disorders resulting in significant cachexia
Epilepsy
Extensive bacterial or viral skin infections, disturbances in wound healing
Person under the influence of alcohol or drugs
Relative contraindications:
Heart rhythm disturbances
Heart valve defects
Status post cardiac surgery
Ischemic heart disease
Raynaud's syndrome
Polyneuropathies
Pregnancy after the 4th month
Vasculitis
Claustrophobia
Hypothyroidism
Hyperhidrosis
All information from Konsensus Erklärung zur Ganzkörperkältetherapie (GKKT), Bad Vöslau, 2006 (german).
Short-term and long-term effects
Whole-body cryotherapy works - also in your medical practice, fitness studio and sports club. Because after just one session, users report pain relief for several hours. Some are even completely pain-free afterwards. Note that the more regular the stimulation, the better. Then your body reacts even faster and stronger - from the adjustment of the metabolism to the release of hormones to the relaxation of the muscles.